Here Are A Few Tattoo Testimonials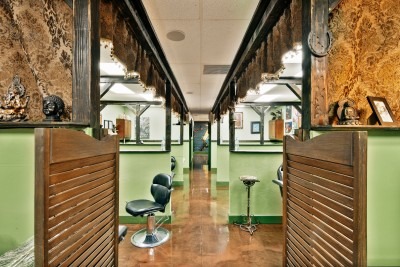 I love this place. The owner, Eric, is AMAZING. His work, capabilities, and talent are out of this world with a personality to match. He is an expert at what he does and knows what he's talking about. The quality is phenomenal, and the pricing is more than fair. He, along with any other artist at Chosen Art, delivers without a doubt. After going to Eric for my work, I couldn't imagine going anywhere else. And I am honored to see my dad's portrait featured on this page.
Michelle N. | Tattoo Testimonials
LOVE this shop! Great atmosphere and amazing artists! I will be getting all of my work done here. I already have five pieces from Trouble and I get stopped and asked all the time where I get my work done. CHOSEN ART!
Jamie W. | Tattoo Testimonials
I currently am getting a sleeve done by Trouble and couldn't be happier, his work amazes me!!!…AWESOME color, beautiful designs and most importantly he has an extremely light hand. Chosen Art has a lot of very talented Artists…A few of my hands down favorites are Melissa,Diamond and Brent. Besides the talent the shop itself is very clean and a very chill atmosphere ..Definitely recommend Chosen Art Tattoo Studio!!! Stevie V. | Tattoo Testimonials
I have been going to Chosen for quite a while now and I couldn't be any happier with my overall experiences. My artist is Sam Avitia and I would not trust any one else to execute the things he can do as well as he does them. Sam is so talented and so down to earth. His style of tattooing is hard to come by. Chosen is a great shop with a rad environment and talented artists. It is definitely not one of those shops that you should be intimidated by like most shops are. You will be welcomed warmly and receive great customer service(if you are deserving of it). The new shop looks incredible and the atmosphere is worth it in its own. I highly recommend Chosen Art and Sam Avitia specifically! Nothing but love for these guys.
Hannah L. | Tattoo Testimonials
This was my first tattoo and it was an awesome experience. My artist was Mat and he did an amazing job on my piece. These guys really care about the quality they put out and have great costumer service. The artist are all chill and don't have big egos like other shops. I will definitely be returning to get more ink! Chase M. | Tattoo Testimonials
Best tattoo shop with the best tattoo artists! My boyfriend and I are long time customers here and have had lots of work done with this company. Tim, Matt, and Eric are all masters at what they do, I always recommend to my friends and family to them. If you want high quality art done by cool guys who know how to have fun and make you laugh while inflicting pain on you then this is the place! Tim even did a cover up for a terrible tat I had on my back, within 2 hours it was fixed when the previous artist took over 8 hours of my time to give me a crappy tattoo ugh I WILL NEVER GO ANYWHERE ELSE BUT CHOSEN ART TATTOO. If you don't get your ink done here, I honestly feel bad for you. Talented artists and great vibes all around! Thanks again guys!!!!
Lana J. | Tattoo Testimonials